Commercial Roof Installation down to 10° F
Unlike the competition, the MR Multi-Ply® Roof System can be installed year-round, including in the winter months. All the way down to 10° F. Why wait around until spring, when the snow melts?
(Snow load) refers to the amount of accumulated snowfall that settles on top of a building. Heavy snow loads can cause roof leaks, water damage, roof sagging, and can even lead to potential health risks associated with wet insulation.
Thermal-Tec can service your roof any time of the year!
Other Roof Systems Can't Be Installed In Winter Temps
Single-ply systems like TPO, EPDM, and PVC (polyvinyl chloride) are at a well-documented disadvantage when it comes to service and installation capacity at low temperatures. Each of these single-ply materials simply cannot be worked with once the temperature drops below 40° F.
This is one of the realities of having to glue-together materials. The adhesives can't perform in colder temperatures. This ALSO means these single-ply roof systems won't be able to be serviced during the colder months either. Any leaks that occur in low temperatures will have to wait til spring to be repaired.
Your roof system should never be "weather permitting".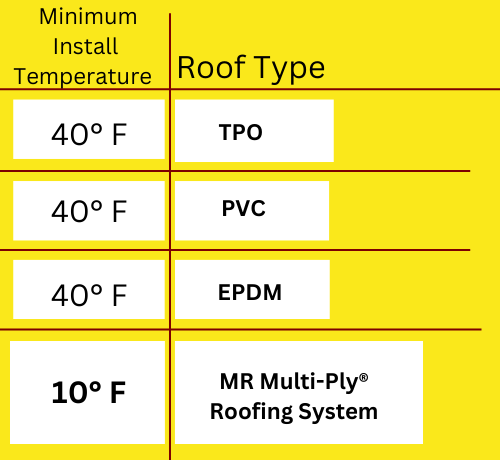 Fix Your Leaking Roof This Winter
Commercial buildings go through a lot in the winter months. Snow loads on the tops of buildings tend to melt as soon as the weather temperatures begin to rise. Melting will also occur due to intense heat emanating from aggressive manufacturing environments. And thus, lead to ponding, leaks and irreparable water damage.
Once leaks begin, that constant freezing and thawing pushes moisture into the compromised areas. But that isn't all. The moisture can enter your insulation, which is a dangerous thing to ignore because many insulations contain hazardous chemicals like formaldehyde.
You don't have to wait til spring to fix your roof.   Contact Us Today!