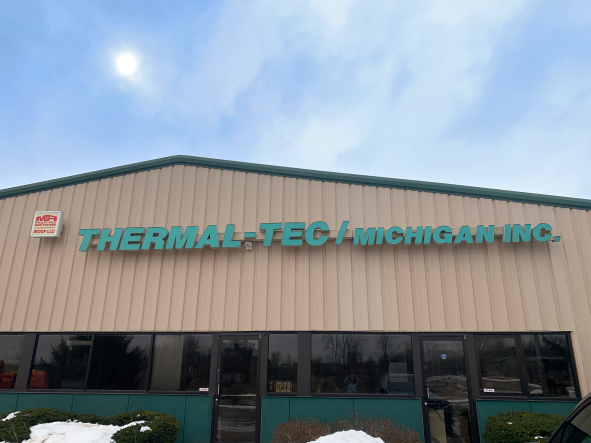 Thermal-Tec/ Michigan Inc, located in Cedar Springs, is celebrating its 40-year Anniversary this month. Founded by Earl Siterlet in 1983 with his two sons, Robert and Richard Siterlet, Thermal-Tec began as a modest insulation and roofing installation contractor in Sand Lake, MI. The company quickly became a premier roofing solution, sought after by critical manufacturers throughout the Midwest. A dedicated team of employees and a family-oriented culture make up this remarkable "American Dream" story surrounding Thermal-Tec.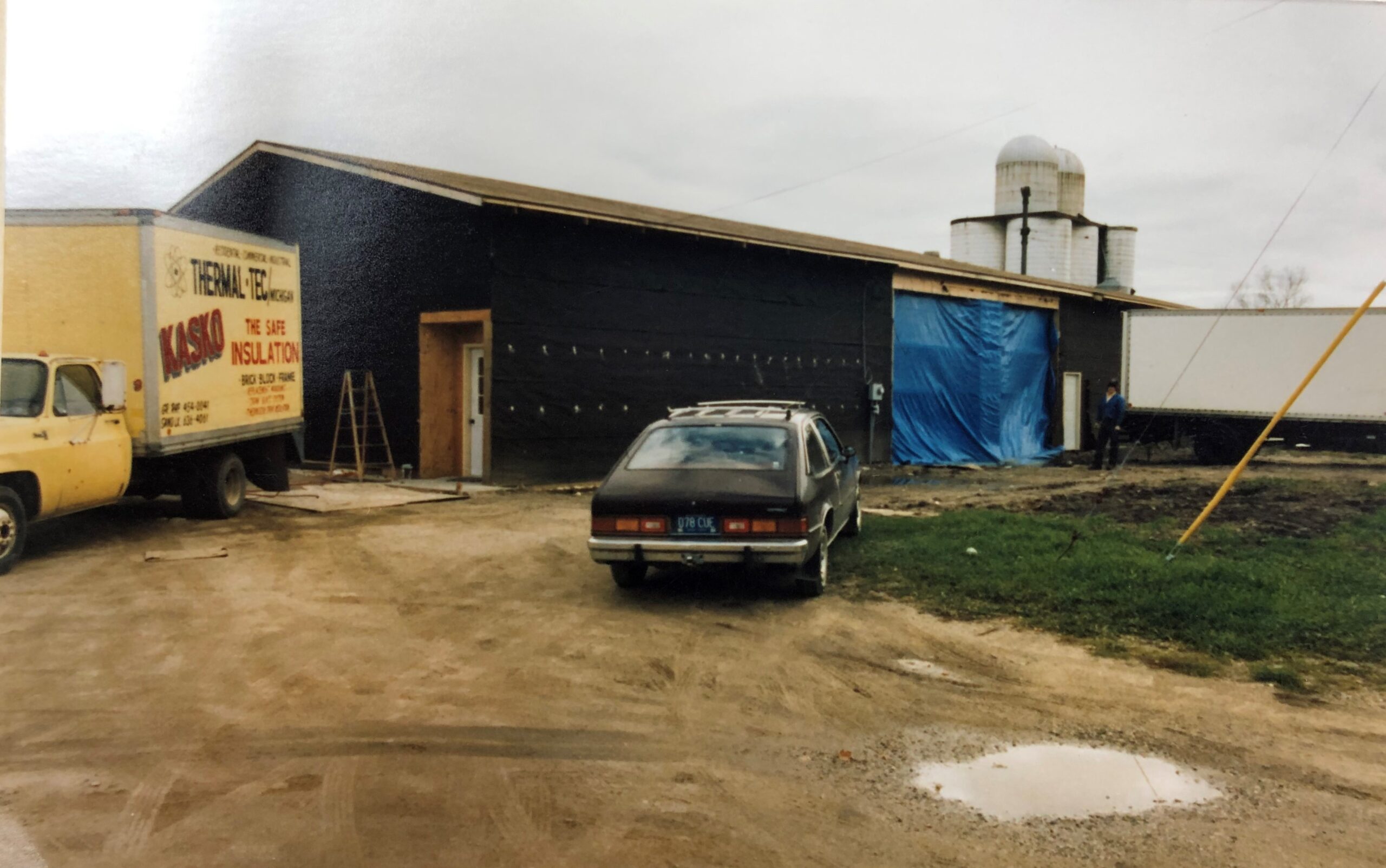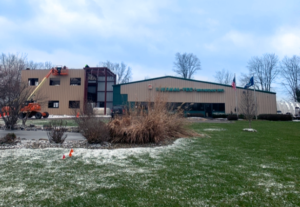 Committed to Excellence from the Beginning
Dissatisfied with popular roofing products of the early 1980s, Robert saw an opportunity to set the company apart from the competition right at the start. He went on to develop a roof system all his own that was specifically designed for metal roofs. This was the birth of the MR Multi-Ply® Roof System, a product that would soon define functional excellence in more ways than just keeping facilities water-tight.
In 1986, Linda Blanchard, daughter of Earl, joined the company. Following the death of Richard in 1990, her contributions to finance and computer automation brought the company into a new technological era. During this time, Earl built an award-winning sales force and video presentation, and by 1992 the company had set up stakes at a new location in Cedar Springs where its headquarters remains today. When asked about Thermal-Tec's early days and what she suspects helped lay the foundation for the future - company CEO, Linda Blanchard had this to say,
"We thank all who have stood by us, believed in us, cared for us, worked hard for us, and helped us become one of the best and biggest in the country. We will celebrate this accomplishment all year and are excited for what the future holds!"  - Company CEO, Linda Blanchard
Robert and Linda worked to advance Thermal-Tec's safety program and expanded the customer base throughout the Midwest. In 1994, Earl handed over the day-to-day operations to Robert and Linda. Earl remained an active board member, advisor, and consultant until his passing in 2012.
Continued Excellence Over the Years
The company continued to thrive under Robert and Linda's leadership after Earl's passing. Thermal-Tec pressed on winning awards and garnering national recognition for their evolving safety program. The sibling pair brought in their brother, John as a salesman as well as their nephew Jake Siterlet, (John's son), as IT staff in 2012 thus, ushering in a 3rd generation to the family business. As a result, staff and crew began to grow along with the size of the company's projects. Through the 1990s, the commercial jobs Thermal-Tec completed were between 10,000 - 30,000 SQ Ft. Today, the average job is anywhere between 80,000 – 100,000 SQ. FT.
Thermal-Tec has kept its doors open through times of economic uncertainty, national tragedies like 9/11, a recession, and even a pandemic. In 2020 the Covid-19 pandemic saw many businesses forced to close their doors. Because of Thermal-Tec's preferred system among critical manufacturing facilities, the company received an "Essential Business" classification. It was tasked with helping to keep necessary infrastructure facilities water-tight and operational. Industries considered to be essential to infrastructure include:
With an award-winning safety program in place – Thermal-Tec didn't miss a beat in implementing additional safeguards and mandated masking. Company crews soldiered on, keeping the essential businesses producing by repairing and re-covering some of the most extensive roofs on the largest companies in the eastern half of the US.
"I'm proud to be part of a company that was able to adapt and overcome the challenges brought on by Covid-19."  – Project Coordinator,  Jake Siterlet
Environmental Safety and Stewardship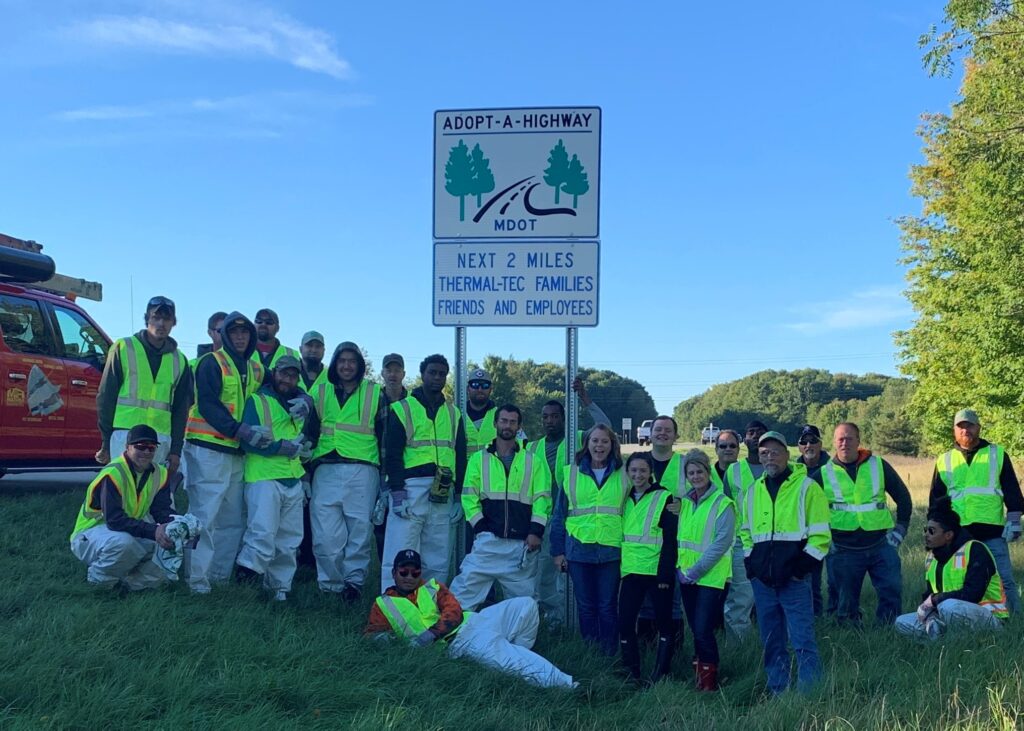 Environmental stewardship has always been important to the owners of Thermal-Tec. The innovation of the MR Multi-Ply® Roof System has given Thermal-Tec a competitive edge in the ability to re-cover previously failing systems that were otherwise destined for landfills. It's an industry game changer. That was an important facet of the standard commercial roofing industry Thermal-Tec felt obligated to challenge.
"The need to create products and solutions that ultimately reduce waste has been a cornerstone of the company's ethos from the very beginning." – Company President, Robert Siterlet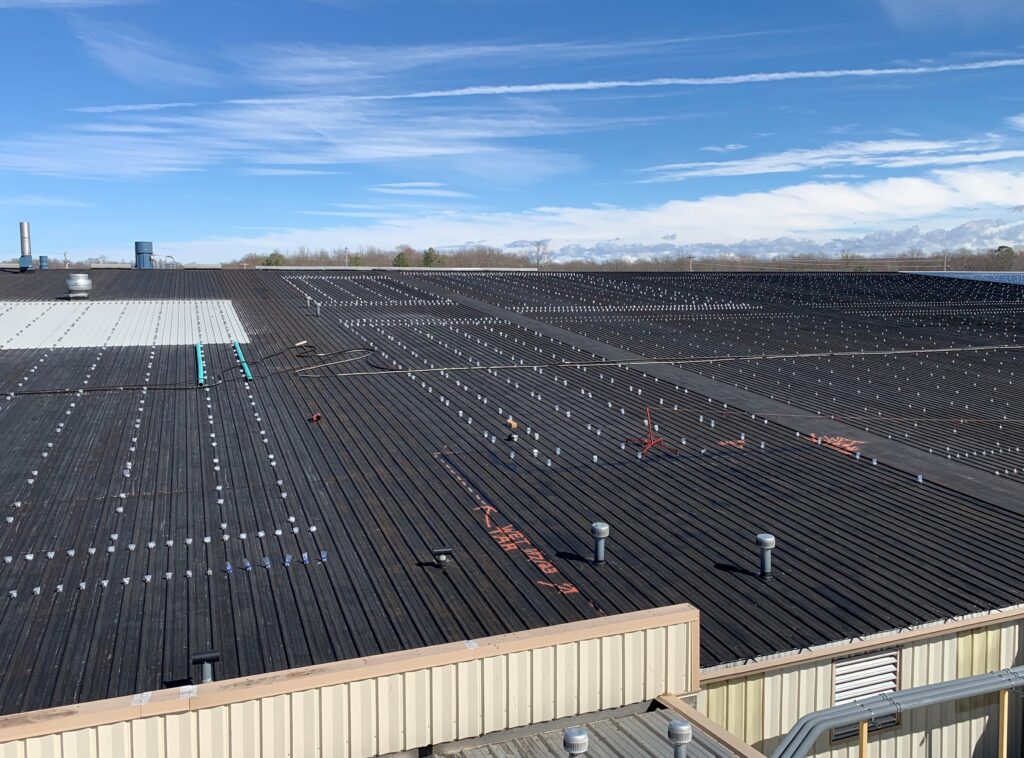 2021 saw substantial growth for the company, and 2022 brought forth its first solar-integrated project on a 398,000 SQ. FT roof.  Nearly half of that surface are will be fit with solar panels this spring – that's just one of many partner projects slated for completion later this spring. The end of last year also saw the budding of another expansion project. The company broke ground on a 3,200 SQ. FT addition to their Cedar Springs headquarters, marking the ninth time they've needed to expand their facility.
Thermal-Tec began 2023 with a featured article in the nationally distributed Retrofit Magazine – a publication devoted to restoring and repurposing commercial buildings. The coverage featured Thermal-Tec's alternative solution to removing once-renowned asbestos-laden roofing material called Transite.
Showing no signs of slowing down, the company's flagship product, MR Multi-Ply® Roof System continues to fit the bill for retrofitting failing metal and old asbestos roof systems. When asked to sum up Thermal-Tec's innovation for the future of commercial roofing, Blanchard had this to say,
"Thermal-Tec's MR Multi-Ply® Roof System is an ongoing commitment to renewable roofing for a greener tomorrow."
– Company CEO, Linda Blanchard